Hey there friends! Have you started thinking about preparing for your home for winter? The colder months are my favorite time of year. There are lots of ways to ensure that your home is more comfortable, cosy, and even practical throughout this season. Here are some options that we definitely recommend you explore.
Disclosure: This article is sponsored by Social Sivan and its sponsor, however all opinions stated are honest and personal.
We live in an older farmhouse that we inherit from my husband's grandmother. There always seem to be items we need to fix and update, so our local Home Depot is always on our shopping list. From replacing water lines to replacing flooring, we have become great DIYers, if I say so myself.
One of the definitive issues with winter is that it can bring some rather nasty power cuts. This can leave you without power for days and, if you're very unlucky, weeks. I never thought out family needed a backup generator until we went without power during hurricane Irma. The good news is that there are easy ways to rectify this issue. One of the best options will be to make sure that you are investing in a backup generator. Since these come in a range of different sizes, you'll be able to find one that is the perfect fit for your home. They are also great for when you have a DIY project outside and might not have a outlet near you. Just remembered if you wire your generator back to your house ALWAYS DISCONNECT YOU FROM THE GRID.
You might also want to think about investing in a portable gas fire pits. This can be great for taking the chill of an area of your home and ensuring that it stays warm and wonderful through winter. They are also great for outside parties.
Replace flooring



Recently, we also replaced replace the flooring in our mudroom. I know this can be a task many of us are scared to try on our own. But thankfully the knowledgeable folks at Home Depot are there to help. From start to finish, they were there to help us and if you are not a DIYer they can help put you in touch with licenced and insured installers.
It's worth going around your home before winter and checking for any cracks that do need filling in. There are two reasons for this. First, it's another way that the cold air can creep into your home. Second and perhaps it blocks creepy crawlies from entering your home too. Through winter, the worst creatures in your garden are looking for a way to keep warm and this can mean entering your home.
Pellet Stove
This is our newest project that is currently waiting for it's time to shine. The

Pleasant Hearth 2,200 sq. ft. EPA Certified Pellet Stove with 120 lbs. Hopper and Auto Ignition. So this has been a dream of my husbands for some time now. Don't tell him I said this, but it's been in our HONEY DO SHED since last year. I'm really excited about this project and the savings we will see on our energy bill, I will be sharing this instll with you soon!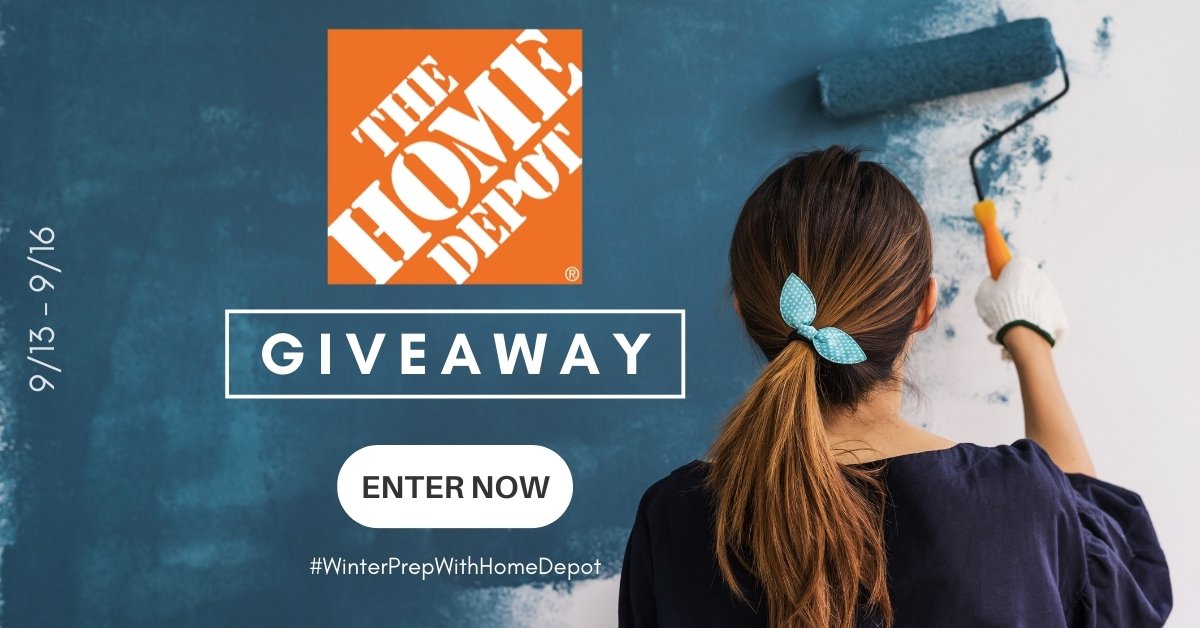 Monday, September 13th at 12:00 AM PT to Thursday, September 16th at 11:59 PM PT.

Four (4) winners will receive a $250 e-gift card from The Home Depot.

Users enter the giveaway by heading to The Home Depot merchant page on Savings.com and submitting their email address on the form on the page.

The winners will be chosen through a lottery drawing and notified on Friday, September 17th via the email address they used to enter.

See complete Official Rules for entry instructions, full prize descriptions, restrictions and other important details.