Available on DVD April 28, 2020
This post is sponsored by Paramount Home Entertainment and Nickelodeon Home Entertainment. All opinions are my own.
Ohhhhhh! Who lives in a pineapple under the sea?
Absorbent and yellow and porous is he!
SpongeBob SquarePants!
Hey there friends! Are you like me? I can't remember a time without knowing that magical theme song! Spongebob and his crew have always been a favorite in our home! We were thrilled to receive a copy of SPONGEBOB SQUAREPANTS: BIKINI BOTTOM BASH complements of Nickelodeon and Paramount Home Entertainment! We are also pleased to announce that 1 lucky reader will also receive a copy of their very own! So get ready to BRING IT AROUND TOWN AND PAR-TAY with Spongebob Squarepants and the rest of the gang!
SpongeBob
SquarePants
and the Bikini Bottom gang keep the good tides flowing in
SpongeBob

SquarePants

: Bikini Bottom Bash,
arriving on DVD April 28, 2020, from Paramount Home Entertainment and Nickelodeon Home Entertainment.
This rockin' compilation boasts five uproarious party-themed episodes, including
SpongeBob
's Big Birthday Blowout, which ranked as the #1 show for the year across kid networks among K2-11, K6-11, K9-14, and K12-17. It's
SpongeBob
's birthday, but it's a surprise, so
SpongeBob
and Patrick are going on a tour of the surface world while everyone else plans the birthday blowout below. Then, Bikini Bottom throws a wave of other parties: Catch some rays with
SpongeBob
and Patrick to get into the biggest bash in town, enjoy a girls' night in at Pearl's sleepover, raise the pineapple's roof at
SpongeBob
's house party, and celebrate the Krusty Krab's momentous eleventy-seventh anniversary! Let's par-tay! The mixed live-action and animation special feature the celebrated voice cast behind
SpongeBob
, Patrick, Mr. Krabs, Sandy, Squidward and Plankton playing human versions of their animated characters and guest star David Hasselhoff (
Baywatch
). Additional guest stars in the special include Kel Mitchell (
All That
), Jack Griffo (
The Thundermans
), and Daniella Perkins (
Knight Squad
).
SpongeBob

SquarePants

: Bikini Bottom Bash
will be available for the suggested retail price of $10.99.
Episodes:
SpongeBob

's Big Birthday Blowout

SpongeBob

's House Party
Sun Bleached
The Slumber Party
Truth or Square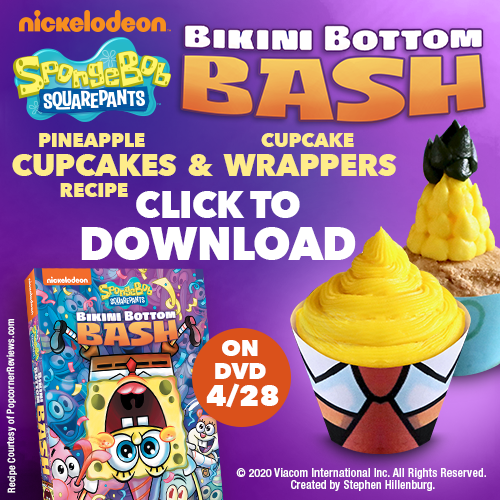 Due to current world events, shipping of all non-essential products has temporarily been suspended for the near future and we have been told we'll be advised when that has lifted and shipping can resume. Winners of physical products will receive their prize when it is determined when shipping can resume. Thank you for your patience and in the meantime!"
SpongeBob

SquarePants

: Bikini Bottom Bash
Fast Facts:
Street Date: April 28, 2020
Amazon:
www.amazon.com/SpongeBobBikiniBottomBash
Catalog: 59210153000 (US); 59210154000 (CAN)
Running Time: 2 hrs 14 min
Audio: Dolby Digital English 5.1 (on
SpongeBob
's Big Birthday Blowout only), English Stereo, French Stereo, Spanish Stereo
Subtitles: Closed Captions
Format: DVD-9
US Rating: Not Rated
CN Rating: PG
US S.R.P.: $10.99
CN S.R.P.: $12.99
About Nickelodeon
Nickelodeon, now in its 40th year, is the number-one entertainment brand for kids. It has built a diverse, global business by putting kids first in everything it does. The brand includes television programming and production in the United States and around the world, plus consumer products, digital, location-based experiences, publishing, and feature films. For more information or artwork, visit
http://www.nickpress.com
. Nickelodeon and all related titles, characters, and logos are trademarks of ViacomCBS Inc. (Nasdaq: VIACA, VIAC).
About Paramount Home Entertainment
Paramount Home Entertainment (PHE) is part of Paramount Pictures Corporation (PPC), a global producer and distributor of filmed entertainment. PPC is a unit of ViacomCBS (NASDAQ: VIAC; VIACA), a leading content company with prominent and respected film, television and digital entertainment brands. The PHE division oversees PPC's home entertainment and transactional digital distribution activities worldwide. The division is responsible for the sales, marketing, and distribution of home entertainment content on behalf of Paramount Pictures, Paramount Animation, Paramount Television, Paramount Players, MTV, Nickelodeon, Comedy Central, and CBS and applicable licensing and servicing of certain DreamWorks Animation titles. PHE additionally manages global licensing of studio content and transactional distribution across worldwide digital distribution platforms including online, mobile, and portable devices and emerging technologies.
Follow
@NickelodeonDVD
on Twitter for Nickelodeon Home Entertainment updates in the US and Canada.
© 2020 Viacom International Inc. All Rights Reserved. Nickelodeon,
SpongeBob
SquarePants
and all related titles, logos, and characters are trademarks of Viacom International Inc.